The most important part while starting marketing is to know its long term value (ROI) and at what cost. Nowadays, there are numerous web platforms where you can start marketing your product/services, either free or paid. Even if you think its free (sharing on FB/Quora), its not!!. Do consider the 'time' as 'cost'. I'll be writing separately on so called 'FREE marketing' budget estimation.
The budget estimation is the most important thing while starting out paid marketing on any ad network(Google,Bing,etc). For that, you will have to consider the expected CPC/CPM/CPV, CTR (Clicks/Impression) for that ad network and also the conversion rate on your website.
Lets say, you plan to market your products/services on google adwords & you choose search network & display network.
Search Network (Google Search & Search Partners)
For Search Network, you can use the google keyword tool to estimate the Avg. monthly searches and the expected CPC (Suggested bid) for your industry specific keywords. Also while doing keyword research, do analyze the search trends for last 2-3 years, if any.

The above image shows that there is increase in monthly searches for the month of June every year.
The suggested bid or CPC in the keyword tool is just an estimation based on location and search network settings selected. Actual CPC is different and you will know it, only after you start the campaign. Similar is the case for the Avg. monthly searches.
Display Network(Google Sites,Blogger,Youtube,etc)
Similarly, for display network, you can use the display planner tool in adwords console and find CTR, CPC/CPM for your category.
Industry Benchmark
Here's the link for the industry specific benchmarks for adwords CTR,Conv.Rate,CPC,CPA etc by wordstream.
Use Case:
I took 'Ecommerce' industry benchmarks, as per wordstream, for estimation: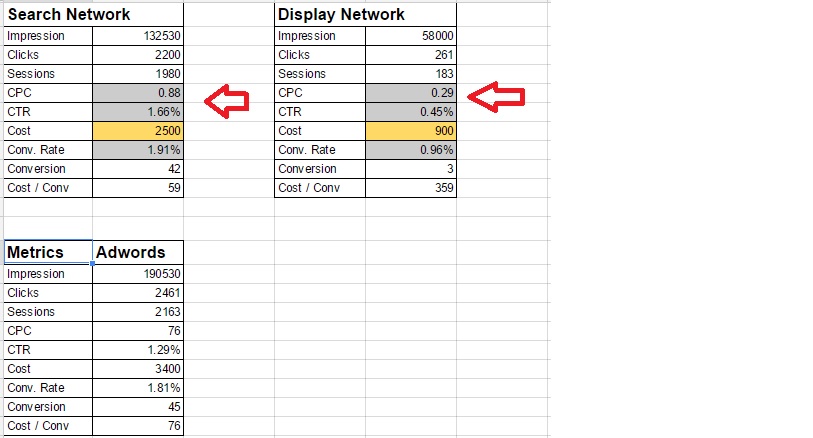 The values in grey can be filled by you based on your category, its good to allocate different budgets for display and search campaigns. The yellow field is the cost which you can input based on your budget.
In final adwords table, you'll get the total of the search and display stats.
USE CASE:
On of the best use case would be to create a monthly plan (as shown below). You can decide the CTR, CPC, Conv Rate. targets for the next month and also the cost which you would be planning to spend across networks. For eg:You can decide that you'll improve the conv.rate month on month by 1.7% to 1.8%,etc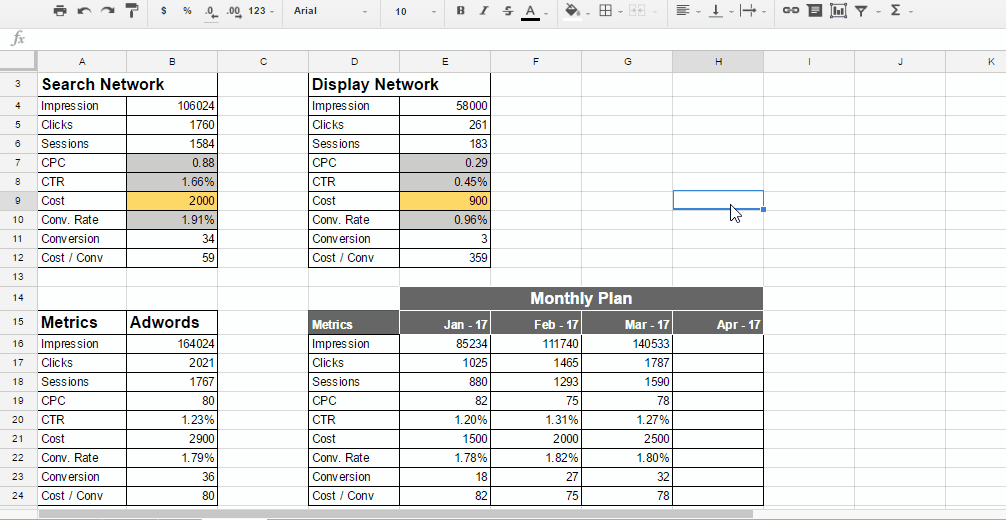 In a similar way, you can judge other ad networks by knowing their CPC/CPM, CTR(for your category) and estimate the budget accordingly.
Another example would be: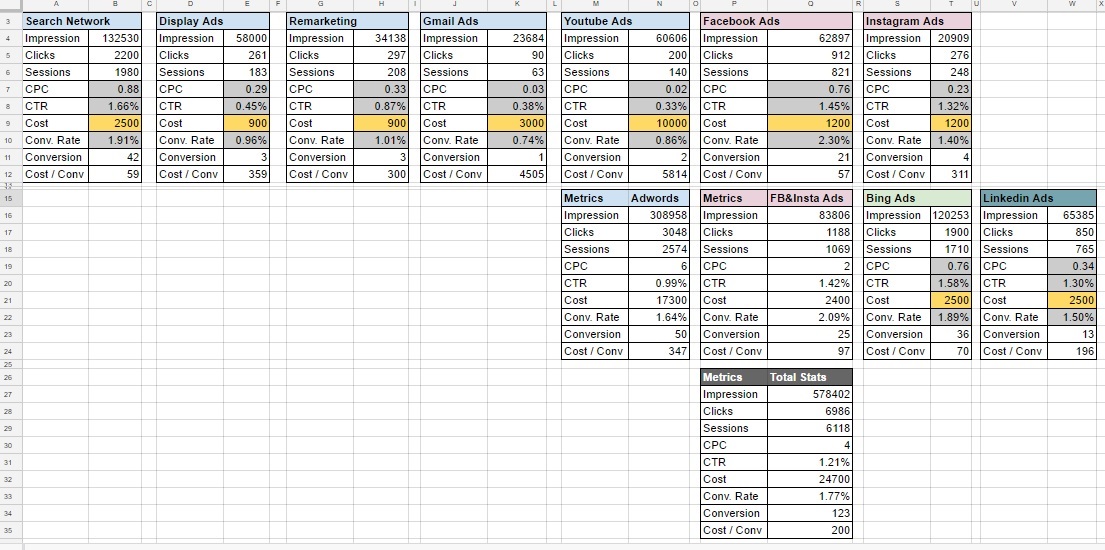 In above image, Adwords is split into Search ads, Display ads(Excl remarketing), Remarketing ads, Gmail & Youtube ads.
FB & Insta ads into facebook and Instagram ads.
Even if some ads like youtube ads, display ads or any platform ads might not be directly focused on conversions, its just good to know its impact on the overall stats.
You can split your budget in numerous ways by Devices, Ad types, Ad Platforms, Cities,etc. It will mostly depend on your current strategy & business objective.
Whenever you try to use any adnetwork, do check these basic metrics so that you can estimate the budget.
Also check out How to automate Adwords Reports. where you'll automatically get the daily adwords data and the projection for the current month.