Today , we'll be looking into something which most of us are already familiar about, the 'Hour & Day of week' report, but the good thing in this report is its automation functionality in scripts. I'll also explain some use cases which you can use for analysis.
Well , lets dive into it then. Just Copy and Preview the scripts here: https://gist.github.com/RitwikGA/76800989f73a53727ff12aa781ef2844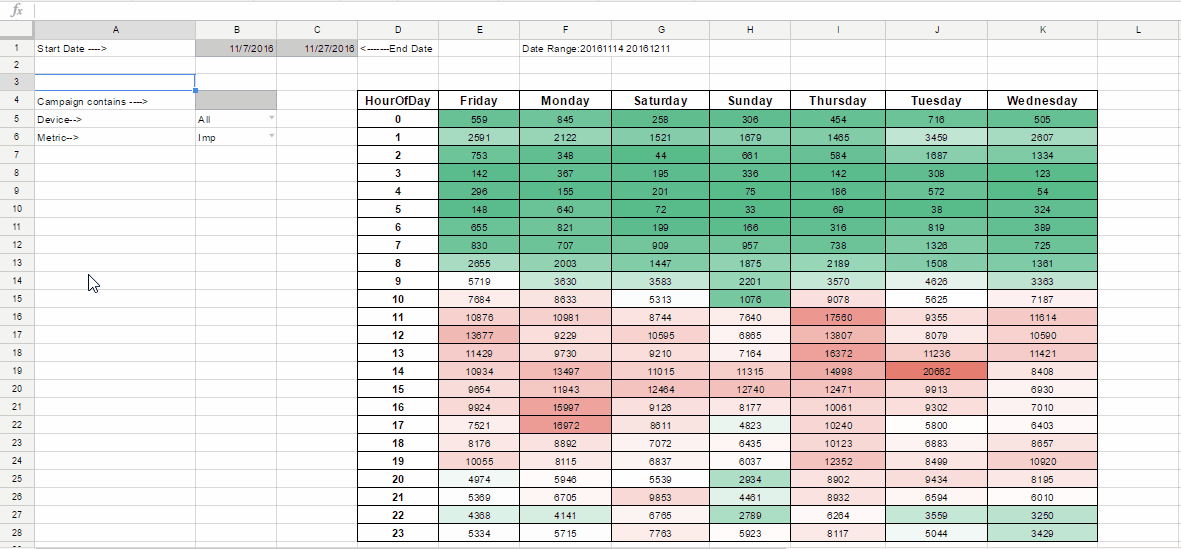 By default, when you run the script for the first time, the data would be of last 7 days.
If you want the data for different date range, you can enter the start & end date(mm/dd/yyyy) in the cell and re-run the script.
Filters:
You can see A4,A5,A6 cells containing 'Campaign contains', 'Device', 'Metric'.
The 'Campaign contains' is the same as it suggests and is case – sensitive.
Device is the device filter for computer,mobile and tablet. For metrics filter,
I have just taken basic metrics Imp, Clicks, Cost, Conv, CPA, CPC.
I have used conditional formatting for this data. You can do it by going to Format > Conditional formatting.
USE CASE 1:
I have start date and end date as TODAY()-8, TODAY()-1 (or you can even put it as blank for last 7 days) and the script is scheduled daily morning at 9(Our Office Time!!).
I have calculated the average for the Hour of the day and Day of week for last 4 weeks to compare with last week stats.

Every day, I can analyze and compare the stats with the previous data. Also, whenever I do ad scheduling (dayparting) in adwords, I can immediately compare the stats next day/week, depending on the changes you make in ad scheduling.
USE CASE 2:
Another use case would be to use charts to analyze trends.Like I have used area chart in spreadsheet.
Script Automation:
You can use this data in numerous ways, and monitor it daily/weekly so that you don't miss out insights. You can also automate the script Hourly/Daily/Weekly/Monthly. (Image Below)

You can come up more use cases like this & gain more insights on daily/weekly basis.Do comment if you already came up with one.
Happy Analyzing Folks!!!