Link Query feature will now allow you to upload the data from other multiple sources to multiple Google Analytics accounts.
Make sure to authorize your Google Analytics & other ad accounts.
To get started, follow these steps.
Step -1:
In the accounts tab, save the query with "GA upload" option checked. This will export the data with the format compatible for GA upload.
In Google Analytics, create a Data Import of type "cost data" in Google Analytics (check here for more) & copy the headers by clicking on the schema.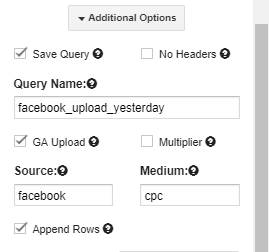 Step – 2:
Complete the Google Analytics Authorization & refresh the addon
Select the account ID > property ID > Cost data source ID. (make sure to create a cost data source in google analytics.
Check the Link Query box & select the query to be linked.
(Only the queries with "GA upload" option checked will be listed here)
You can paste the headers which were copied from the schema but make sure the column ordering is correct.
Or else
You can manually input the headers on the query export sheet  & they will be fetched in the headers text box when you select the query.
Now you can click on add query link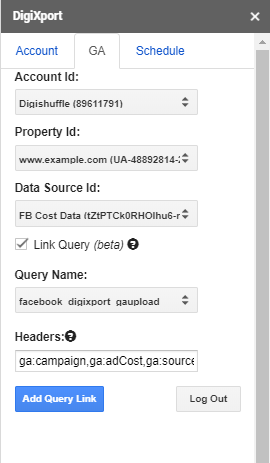 Step – 3:
Click on "Add Query Link"
You'll get a new sheet named "DigiXport_QueryLink" with a NEW row for the query & its associated account.
Make you have the correct "headers" & other GA configuration filled. You can even edit it in the sheet.
Once everything is done, you can test the setup by selecting the linked query in the schedule tab & clicking on "Test Queries" > "Exported Selected Queries".
Now the data will be uploaded to Google Analytics & then the same will be exported to the sheet. You can even check the "manage uploads" list in Google Analytics for the status of the upload.
Once the test runs fine, you can schedule the query.


NOTE: Always test the query before scheduling it, to make sure it works as expected. Also, you can check the recent execution in  the "last run" or "last upload" column(in "DigiXport_QueryLink" sheet).
To delete the link, simply delete the row from the sheet. Click here for the docs.